Phase 1: Your Financial Plan
A thorough financial plan is the key to having confidence in the future. We'll work with you to identify and evaluate the factors that can impact your finances to arrive at an inclusive, customized plan to help you achieve your short and long-term goals.
Phase 1: Financial Planning Process

Understanding Your Goals
Getting to know you and your aspirations allows us to create a plan that is as individual as you are. At our initial meeting, we'll discuss:
Your financial vision, values and goals
The services we provide
Our planning process
This is the first step in what we hope will be a life-long relationship.

Reviewing the Numbers
After gathering various documents and information, we will review and evaluate your current financial position. The following is a sampling of what we would request:
Wills / trusts
Brokerage statements
Retirement plan information
Social security statements

Assessing Your Position
With an overall understanding of your financial goals, we'll create an initial detailed, comprehensive draft of your current financial plan.
At this point we will examine the viable options for achieving your determined objectives. We begin here to look at the products and strategies that may be selected for implementing your final plan.

Presenting Your Plan
Your final financial plan will consider your current position, along with your short and long-term goals, to help you fulfill your vision for the future. We'll present our recommendations, including:
Retirement scenarios
Cash flow analysis
Investment allocation
Estate planning modifications
Budget & debt management
Social security analysis
Planning for aging parents
Phase 2: Managing Your Assets
With a solid financial plan in place, we'll design a personalized investment strategy based on your wealth management goals and risk tolerance. Whether you're working toward a secure retirement, funding a college savings plan, or building your financial legacy, we'll identify the investment opportunities that we believe are best suited to your goals and provide the counsel and support you need to help you live with confidence.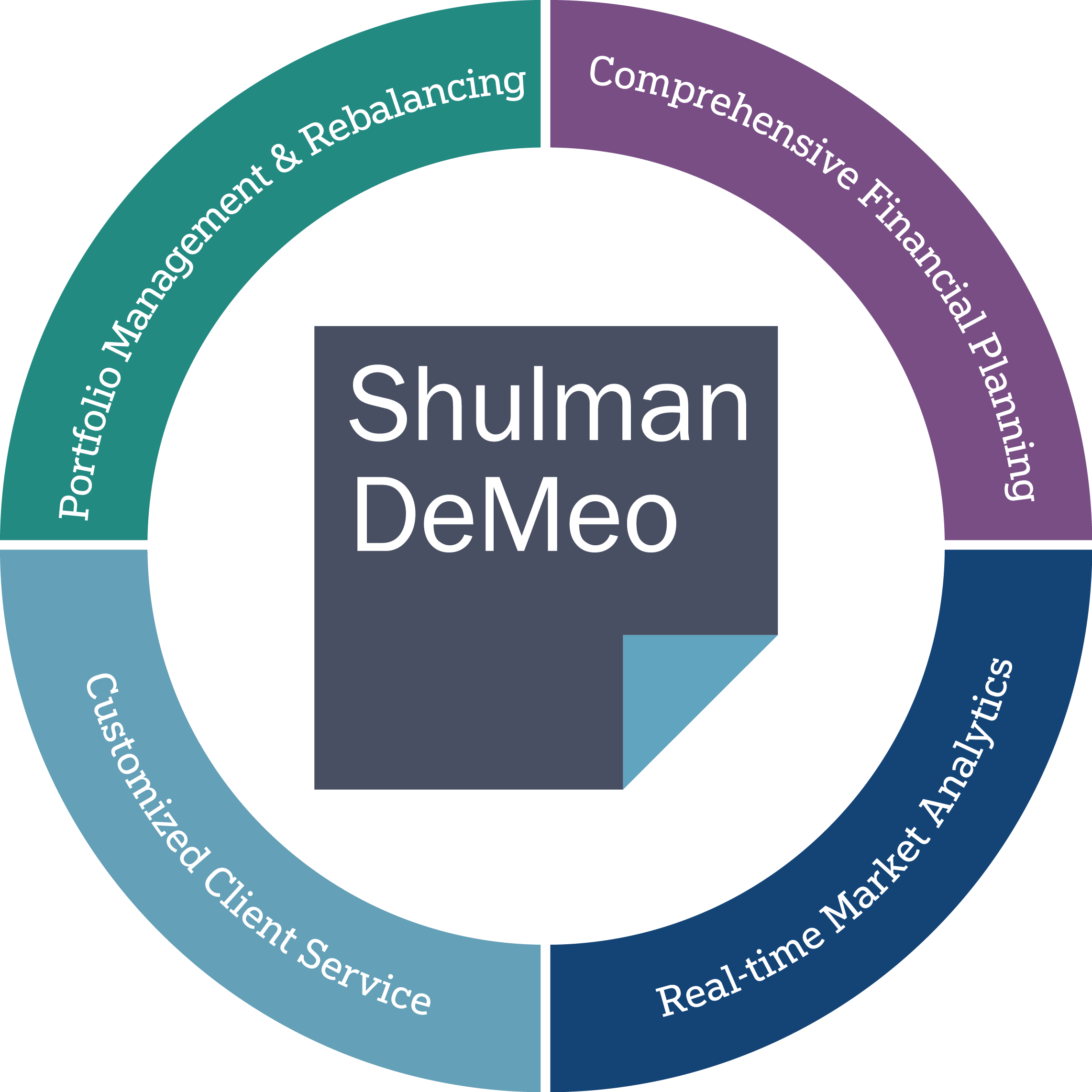 The Shulman DeMeo Advantage
Our selective client engagement model powers our hands-on, 360-degree approach to asset management and ensures that all investment decisions align with your financial plan. A limited client base affords us the ability to be intimately acquainted with your portfolio and actively monitor market dynamics to react quickly to opportunities and your changing needs. Our independence provides access to a broad array of investment products and services for selective portfolio development and management. Our goal is to continuously provide value by delivering seamless financial management expertise and a personal commitment to helping you realize your goals.